Our caring and compassionate
​​​​​​​veterinary care team!
Meet the Veterinarians & Team of Sherlock Bones Animal Hospital in Carmel! We're pleased to provide exceptional vet care for your pets!
Please call us at 317-428-2530 to speak to one of our caring veterinary staff members!
Doctors
Roger E. Nix, D.V.M.
Dr. Nix, originally from Southern Indiana, graduated from Purdue's School of Veterinary Medicine in 1982 and has been practicing in the Indianapolis area ever since. His clinical interests include canine pediatrics and geriatrics, and his passion for animal joint health inspired the creation of a company to manufacture JointCharge, an all-natural Hyaluronic Acid-based joint supplement that he and other veterinarians use to treat age-related joint issues in dogs and cats.
In his free time, Dr. Nix enjoys spending time with his wife and sons. Their family also includes one dog and a flock of chickens devoted to creating a steady supply of fresh eggs. He counts flying, sailing, and traveling as his favorite activities interests outside of the hospital. In addition to his reputation as a trusted Carmel Veterinarian, Dr. Nix also owns a practice in Fishers, IN.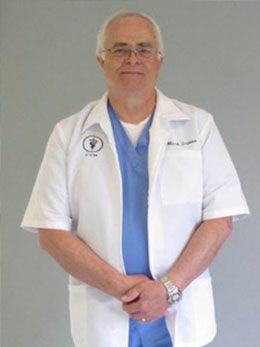 Mark Graves, D.V.M.
Dr. Mark Graves resides in Noblesville with his wife Jeanie. They have one daughter Kristen and two grandchildren. Alex is a medical doctor and graduate of Semmelweis University of Medicine and Iszabel is a sophomore at Park Tudor High School.

Dr. Graves previously owned three veterinary hospitals in Zionsville and the Geist Lake area of Indianapolis (Eagle Park Animal Hospital, Village Pet Doctor and Geist Station Animal Hospital). For the past 18 years he has practiced small animal medicine and surgery in group veterinary practices with locations in Indianapolis, Fishers, and Carmel, IN. He has worked with Dr. Roger Nix at both Windermere Animal Hospital and Sherlock Bones Animal Hospital since 2007.

Dr. Graves was educated at Purdue University, graduating in 1969 with his B.S. degree in Animal Science and in 1973 with the Doctor of Veterinary Medicine degree. His special interests are internal medicine, soft tissue surgery, and practice management. Dr. Graves is a member of the American Veterinary Medicine Association and regularly participates in continuing education programs both locally and nationally. He also is a member of the Advisory Board of the Vet Tech Institute of Indianapolis.

​​​​​​​Two of Dr. Graves's outside interests are cooking and nature photography with his wife of 51 years. He also is an active member of St. Elizabeth Ann Seton Catholic Church in Carmel, IN.
Carolyn Kacocha, D.V.M.
Dr. Carolyn Kacocha is from Purdue University in 2000. After graduation, she worked at a 24-hour emergency hospital in Louisville, KY. While working in Louisville, she volunteered for Alley Cat Advocates, the local Trap-Neuter-Return group and Woodstock Animal Foundation for 5 years before returning to Indianapolis area. She became the Medical Director of Indy Feral. She enjoys spending time with her husband, Jeff, their dog Java and four cats.
Practice Manager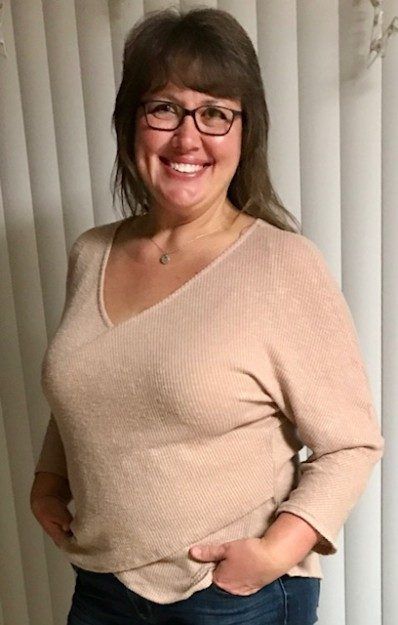 Julie
I have been in veterinary medicine for the past 30 years, 20 years of it working in busy emergency practice and running the ICU department. I have been married to my best friend for 3 years. We have two children, Ashley, a stay at home mom to our two grandsons, and Nick, who is a professional pilot. We love to be outdoors, hiking, biking, camping, kayaking, fishing and sitting by a fire with our grandsons. Life is good.
Veterinary Assistants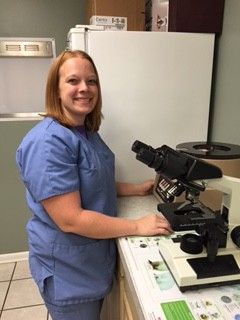 Megan McKinney
Megan finished at Penn Foster with her career diploma as a veterinarian assistant in 2012 and she's been working in the veterinary health field for the past year and a half. She has three furry family members— a mixed breed dog named Buzz, Colby a Beagle and Lyla a Chihuahua mix. She lives in Sheridan with son Cameron.
Megan loves all animals but especially pigs, describing them as "super cute" with "mellow (for the most part)" personalities. Her affection for pigs grew throughout the decade she spent showing them in 4H, a tradition that carries on today with her son.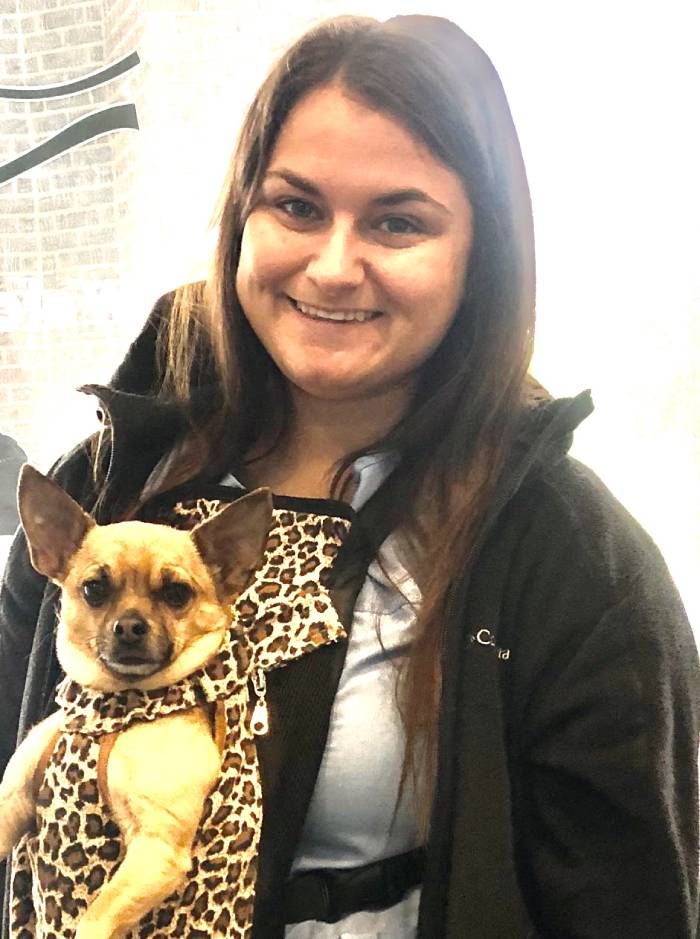 Karlee
Karlee started her career in veterinary medicine as a junior in high school for a large and small animal practice. She continued working at a veterinary clinic while attending college where she received a degree in criminal justice. She quickly realized the veterinary field was her calling. She resides in Sheridan with her six fur babies, Doberman mix (Dobie), two Chihuahuas (Nugget & Gypsy), a chiweenie (Sassy), a cocker spaniel mix (Norman), and a tabby cat (Davidson). In her spare time she enjoys couponing, spending time outside, naps, riding motorcycles and spending time with her Gran.
Groomer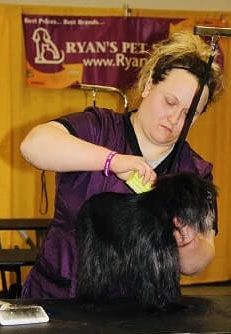 Rachel
I'm Rachel and I am a certified professional groomer. I started in the grooming industry in 2009 where I was hired and trained by one of the few IPG Master Groomers in Indiana. I am proud to carry confidence, knowledge, and safety standards with me. I am familiar with all breeds and am excited to work with you to determine the most appropriate and attractive look for your pet. I strive to provide you and your pet with the best services and products to keep your fur baby healthy and looking his/her best.
In order to keep up with the latest grooming trends, I attend multiple continuing education events/shows throughout the year. In 2018, I won my first Pure Breed Freestyle grooming competition with my Brussels Griffon. I have a desire to continue competing and eventually work towards completing my master's certification. I look forward to meeting you and helping you with your pet grooming needs. Reserve your appointment with me today!
Receptionists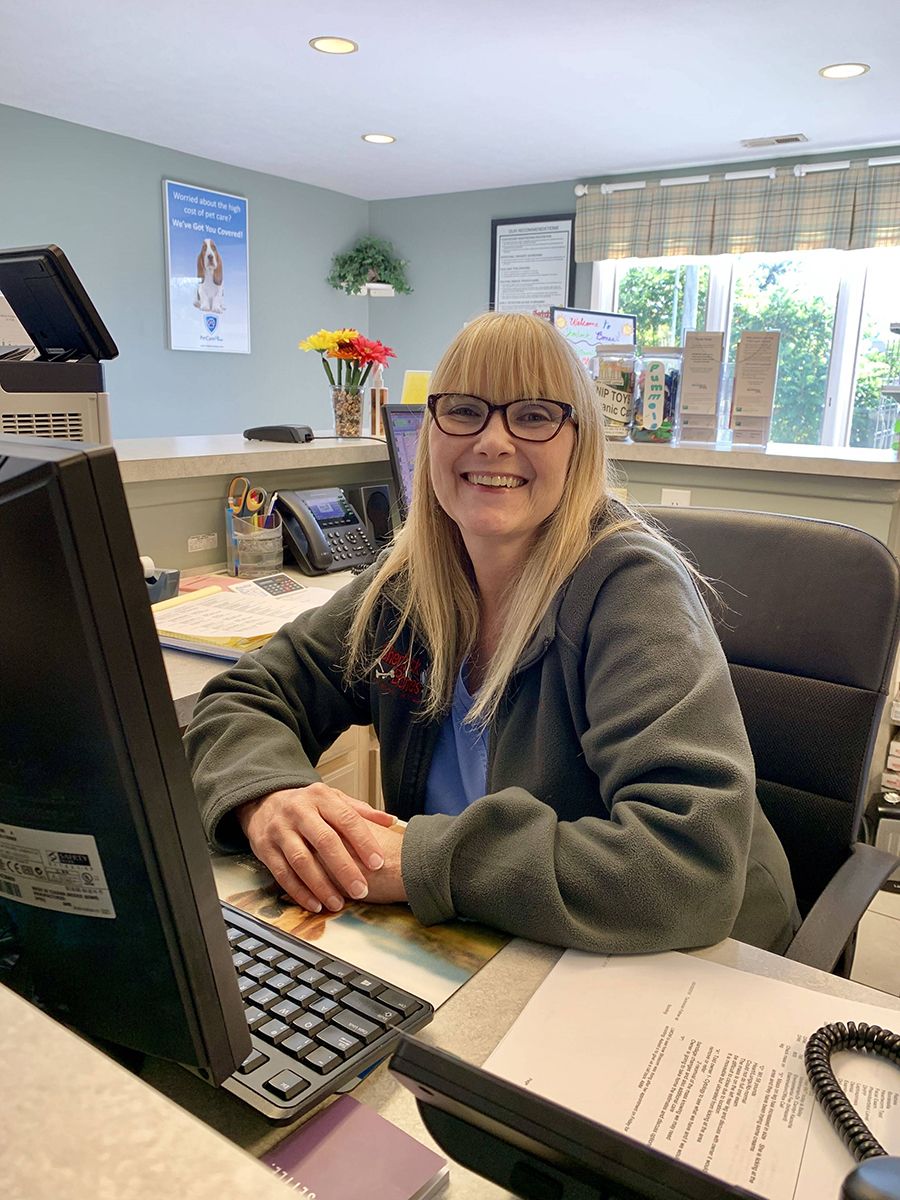 Kristina
Kristina grew up in the country and has had animals her whole life including many exotics. She enjoys rescuing and rehabilitation for many types of animals. She lives in the Carmel area with her wonderful husband and two daughters. She says she has a small zoo at home with her cat, Tiberius and may exotics.